SUP Yoga Miami!  Paddleboard Yoga strengthens the body, calms the mind, and lifts the spirit.  Traditional yoga poses and sun salutaions are transformed when on a SUP.  This class is recommended for all levels.
Stretch Work Sup Yoga
Bringing new light to local waters-- a StretchWork SUP-Yoga class is your chance to take your yoga practice to a new experience. Duration of class will be a total of 90 minutes long; the first half hour is mainly used for our clients to feel comfortable on the SUP board, by explaining to them the techniques of basic paddling and handling the board. Whereas the last hour is solely for their yoga practice on the SUP board; each board will be anchored and secured before class starts to avoid having any students drift during class. These classes are open for "all levels" (beginners are welcomed and encouraged!); the 'SUP yoga' class will consist of a Vinyasa flow with modifications when needed to accommodate their yoga practice on the SUP board. Classes taught by Libby Gonzalez, president of Stretch Work Yoga, who is a certified and a RYT200 (Registered Yoga Teacher) by Yoga Alliance, and CPR certified.
Cost
The cost of a class includes all the equipment needed, so you do not need to bring your own board. We would recommend a towel, bottle of water, sunblock (use before class) and a change of clothes for after class (optional).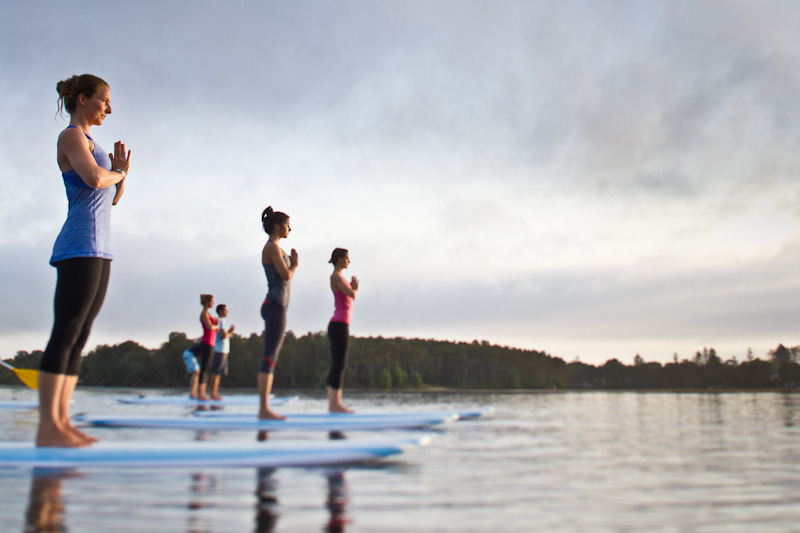 When first starting your SUP Yoga practice, be prepared to a swim.  Our calm protected waters offer safe harbor, and a cooling break from the hot Miami sun. 
Group Classes are $45 for 1 1/2 hour session
Private Yoga Sessions are $65per hour
Our classes are offered by trained and certified yoga instructors.  All classes are subject to weather.  Don't fret, it it rains, our covered deck will be available for your sessions. 
Paddle Fitness!  It's a way of life. Core strength, endurance, tight defined muscles.  Join Paddle Fitness instructors for on-land and on-water classes.  Dedicate three session a week for six weeks and see the results.

Group classes are $45 per session
Private Fitness sessions start at $65 per hour

All Paddle Fitness classes are offered by professional and experienced instructors.